HOW SWEET IT IS
What started as baking cakes out of her home kitchen for two years has grown into three custom cupcake shops in two states with 65 employees for Abby Jimenez, owner of Nadia Cakes. The path to business owner has included a few leaps of faith and several stops along the way – California, Minnesota, Food Network, The Learning Channel … and sugar. Lots of sugar.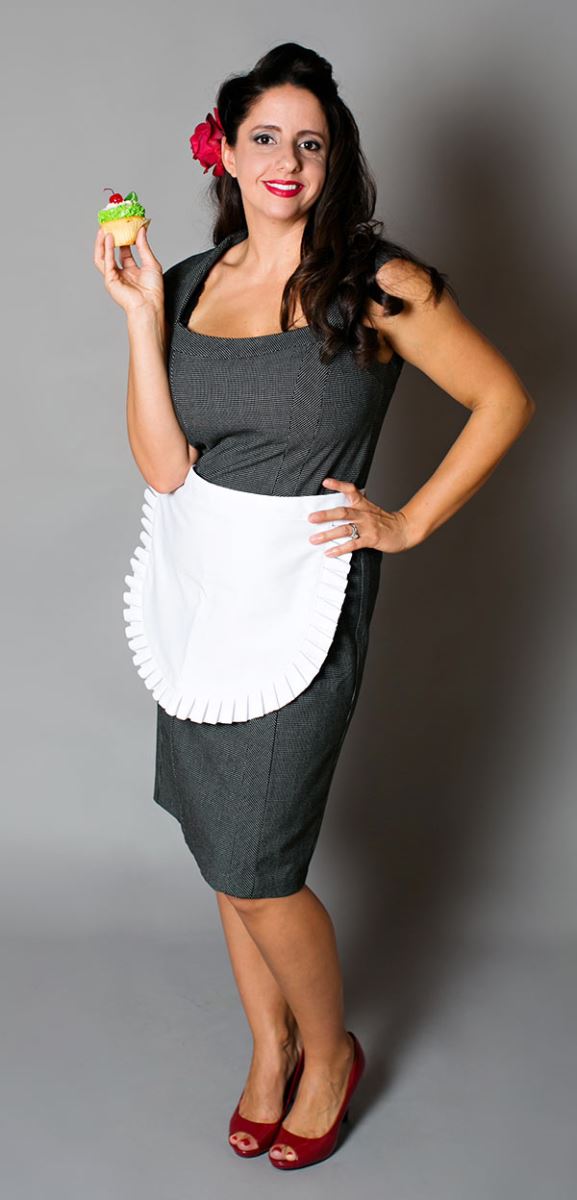 Jimenez explains how she's found the perfect recipe for choosing the best partners, creating a work environment that encourages staff retention and achieving the elusive work-life balance.
Talk about how you made the leap from baking in your home to opening a storefront.
Actually, the big leap really wasn't the home to the storefront, it was working a full-time retail manager job and then starting to bake from home. I had no background in baking or anything. I had worked in a restaurant as a server but I had no culinary background whatsoever. I was expecting my third baby in three years and simultaneously lost my job. So I took a few classes at a local store and started decorating cakes out of my house. I thought, 'I'll pay the bills this way for a little while and run a little cake business from home.' So I did that for two years, and it was awful. It was the hardest two years of my life. And my husband Carlos says, 'Why don't we open a bakery!' which was crazy to me because I had never run a bakery. But I also knew I couldn't continue doing what I was doing. Right now, what I used to do from home by myself takes about three full-time people to do. I would do six to seven cakes a week, working 80- to 90-hour weeks. I did all the billing, deliveries, baking, decorating and consultations. I was a one-man army!
In 2009 we decided to open our first shop in Palmdale, California, and named it after our middle child. The day we opened, there were lines out the door. It was immediately successful. Within two weeks, my husband had to quit his job to come help because we knew it was sink or swim time. That was really scary because he was the only stable paycheck.
In 2010, you were featured on The Learning Channel (TLC). How did they find your bakery?
I had won an award, Best Cakes in Los Angeles, about seven years ago. TLC was casting for a new show called "Fabulous Cakes" and they saw that we had won that award so they contacted us. We auditioned – they gave us a three-week window and asked if we would have any cakes that would be show worthy. I had a wedding, birthday and quinceañera, and they really liked the quinceañera cake. So they casted us with that cake and followed us around. A year later, "Cupcake Wars" on Food Network called me to do season 4. I ended up going on, and I won.
You started in sunny California, so how did you find your way to Minnesota?
Well a couple years after we opened in Palmdale, my husband said we should open up another shop, and we didn't want to do it in California. I was really resistant. I warmed up to the idea when my daughter's school sent me a letter saying that it was underperforming and that we could be put in a lottery to have her in a different school but that most of the schools in our area were underperforming. So we took a cross-country trip and drove through 23 states! We decided we didn't want to be anywhere hot because Palmdale, where we're from, is very hot. My husband had worked at Room & Board at a time before Nadia Cakes, and they have a corporate office in Minnesota. He would always say how nice everyone was and how great the company culture was. When we got to Minnesota, we were at the tail end of our trip – four weeks with four kids in the car. We were exhausted. We stopped at a shop in Maple Grove a few blocks from here and were really interested in that spot. It didn't work out with negotiations, but the landlord who owned that building also owned this building and suggested this spot. We went back to California, and in three months we had packed up the house we had lived in for eight years. And with no friends or family here, we moved to Minnesota … in the winter!
When you're starting a business in an unfamiliar city, how does partnering with the right vendor help you?
AmeriPride was one of the first vendors that we invested in. When we first opened, we were trying so hard to not spend money, to keep things very economical and it was getting to the point where I was working 12 hour days and then going home and washing rags and aprons. I didn't even know there was a service for that. Then someone came out and talked to us about it and I said, 'Oh my gosh! Someone does this? Oh this is amazing!' It was such a huge weight lifted off my shoulders. I would take home giant trash bags of rags and wash every night at my house. I thought, 'There's got to be a better way.'
The right vendor lets us do our job. Not focus on things that are not really part of what we should be focusing on. I don't want to worry about making coffee, and I don't want to worry about making ice cream from scratch. I don't want to worry about cleaning aprons or rags especially for the quantities we go through. It's so great to not have to worry about that stuff. When you're dealing with allergens, it just makes me feel safer to know that the rags that I'm wiping my countertops down with are sterilized and clean in a way you just can't get when you're washing them in your home washing machine.
What makes a partnership work in your experience?
We do partner with several vendors. For example, we buy all our gluten-free ingredients from Beyond the Grain in Minnesota. The reason we do that rather than do it ourselves is because we want to make sure those people who can't have gluten are safe. And we don't have a gluten-free facility so we feel that buying and sourcing those ingredients from a company – the owner has celiac disease – reduces the risk for us. We take it very seriously. We outsource our coffee, we obviously don't make our own coffee, but we use a local company. Everything that we outsource, we expect the quality to be consistent with the quality we have here. We like places that are family run and have high-quality products. We want to make sure people are getting a certain quality when they come here.
We recently brought in ice cream to the shop. We tested Sebastian Joe's ice cream in our Woodbury shop and it did really well. So we brought it to Maple Grove. It's a nice ancillary item to have. We loved that Sebastian Joe's is like the Nadia Cakes of the ice cream world. It's a family run, Minnesota brand and has been around for a long time.
How important is community to you being a local business owner?
It's super important. Nadia Cakes supports anything that benefits sick children and local families in need. We pretty much never say no. We've done fundraisers for local children with cancer and for the Pinky Swear Foundation. We donate cupcakes for fundraisers and send cupcakes to the Children's Hospital. Every year the Children's Hospital Association hosts an event called Table Talk where people buy tickets to sit at a table with a local celebrity or business owner. Each year I host a table to raise money for children with hospital needs. We've very involved in the community.
We have a 'people first' policy here that is really at the root of who we are as a company. We do what's right for people, and we put that before profit. That started when I worked out of my home. I had a customer whose fiancée had a work accident one week before their wedding, and they had to cancel the wedding. I refunded all of her money for her wedding cake, and I was the only vendor to do that. That was the beginning of that policy, and we live that every day here. And we enable our staff to do that.
How do you know when it's the right time to expand or try something new?
We're not about massive growth. We're never going to franchise. We don't want to lose what's special about Nadia Cakes, and we feel that the fact that it's family run is what makes it special. For us, it's about sustainable growth – when it's right, it's right and we know when it's right. And where we're at with our family, they come first. I'm sure we could open 10 Nadia Cakes locations, but I don't want to. I'd rather spend time with our kids and have work-life balance.
Speaking of work-life balance, how do you achieve that?
I have a lot of work-life balance. My husband and I come from a retail management background. When you're a manager, you don't do everything. You have a staff of 100 people, you have to delegate down. We came from that environment so it's very easy for us to hire, develop and empower staff, and let them do their job. You can't have three businesses and be in all of them everyday 24/7. We have that top-down management style.
How do you market Nadia Cakes?
When we won "Cupcake Wars" it was a huge win for our business. To this day, it continues to bring people in. Billboards really work well for us. And social media. After so many years of experimenting with coupons, print ads and other vehicles, the biggest bang for our buck has been billboards and social media. Our customer is very tech savvy. They are young, and that's how they communicate. And our products look great on social media – it's a very visual product. It's the kind of thing people like to share.
You've won a lot of awards. Are there ones that stand out for you?
When BuzzFeed listed us in their '25 Sweet Cupcake Shops Around the World to Eat at Before You Die,' that was pretty special! To be listed on there with some of the heavy-hitters in the cupcake world was very cool!
What is your favorite cupcake flavor?
Coconut lime verbena is one of my favorites. I did a sweet potato, banana and avocado cupcake on "Cupcake Wars." That one is really good! It doesn't seem like it would be good, but it is.
How fun is it to experiment with flavors and ingredients?
It's so much fun! For us, if we want to make a new cupcake, it doesn't cost too much so you get to be very creative. And if people don't like it, we just don't make it again. I think that's one of the things that attracts retention for this company. We get people who are very creative and could probably have their own cupcake shops but they don't want to because we let them do whatever they want to do back there in the kitchen. We encourage it. The collaborative environment is what makes Nadia Cakes so great – I didn't come up with 200 flavors by myself. I recognize that the collaboration is what makes this business successful because I can't have every idea, nor do I want to.
---
PEOPLE YOU CAN COUNT ON®
Learn how we make your life easier with brand-building solutions to keep your employees and facilities looking their best.