PASSING THE TEST
Ever wonder what a uniform goes through before it's deemed worthy of handling your workday? Lots of testing. We talked with Bill Ching, President of Canadian Uniform Limited in Toronto, where they have been testing Canadian Linen fabrics and garments for more than 20 years. Let's learn how a garment's quality and performance are validated.
Talk about the type of testing that's conducted in the lab.
We perform testing of fabric that will be used for Canadian Linen products. With fabric you have to be concerned with its colourfast qualities, shrinkage, tensile strength and tearing. We are testing the quality of the fabric on a frequent basis.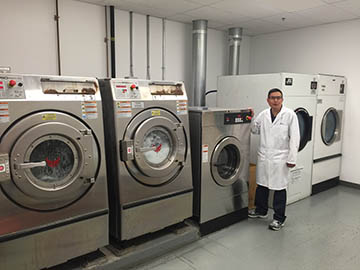 The other type of testing happens once those garments are finished. We call this the statistical quality control (SQC). This means we randomly pull samples of finished product out of the box. We take them to the lab where our technician conducts a series of tests. For example, take the sleeve length. On a size large shirt, let's say the sleeve length is 34 inches. We measure the sleeve length to make sure it is actually 34 inches. We're ensuring that the finished product conforms to the specifications.
We also perform wash testing on the finished products. We wash the garment several times to make sure the fabric doesn't shrink, the colour doesn't fade and that the construction is high quality. It needs to hold up to the amount of laundering it will go through in real life. In the lab, we use the same industrial laundering wash formula that is used in the live environment and prorate it to our smaller weight washer.
Do you become involved in testing product from a supplier partner?
We're very involved in what we call preventive maintenance testing on Canadian Linen products. We also handle crisis testing, which means there is a quality issue with a particular supplier's garment. Let's say the product is creating an issue with the seams, that's when samples are sent to find out what is happening. I have 30 years of manufacturing background so I have experience making and analyzing garments. Our lab helps find the problem, suggests how to address it and reports back. I'm behind the scenes with the technical "why it happened," and I share that expert opinion with the Canadian Linen Product Team. Ultimately, it is the Product Team's decision on how they want to proceed.
What types of machines are used?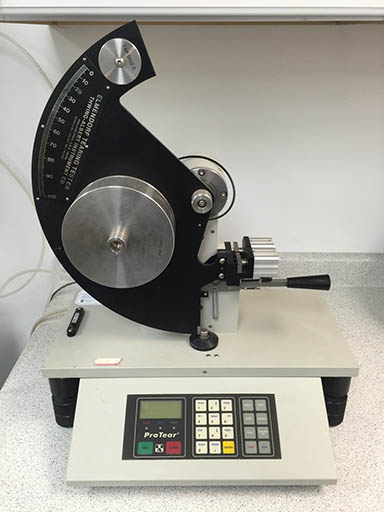 We have the testing equipment here on site, which generates the reports we pass along. We have a machine that runs a pilling test, as well as equipment that specifically looks at the colour makeup. Colour is represented by a series of numbers, called a LAB number, which is generated from this machine. This will tell us, for example, how close a certain navy comes to the standard that we want. You need a machine to assign a number to a colour so it doesn't become subjective to the naked eye. The LAB number is very critical for us to make sure the colour of the fabric from the mills is matching to our standards so that the finished uniform is really "uniform."
What about other components of a garment — how is their quality validated?
When we do the wash test, we pay attention to the buttons – are the buttons falling off after 25 washes? We can physically see the button falling off so you know right away. It's the same with zippers. We normally zip up the zipper after we wash and dry to test the performance. Also, we have a zipper machine that we can use. It's time consuming, but it automatically zips the zipper up and down 50,000 times. But button and zipper issues are usually discovered quickly during the wash tests.
How do you partner with Canadian Linen on new product development?
All new product testing comes through our lab. We are washing non-stop! We send back the sample that was tested along with the results to see how the fabric performed and how the construction held up. This helps the Product Team assess the quality of the supplier. We don't decide which vendor to go with, but we provide the technical results and develop product guidelines.
Sample products are always made under perfect conditions, but when garments are produced in large quantities, manufacturers are using the production floor, which can come with a different set of conditions and variables. So you want to make sure all the products meet the requirements of the sample. You need the quality control from a lab – you can't judge it by simply looking at it.
The lab technician must be one busy individual!
Our lab technician is always busy. He starts at 5:00 am and is washing until 4:00 pm. Then he goes home and washes his family's laundry! He's been with us for 16 years and is very knowledgeable.
How critical is it to have a thorough testing procedure for garments?
It's something that every operation must have. To provide a good quality product to customers you need someone to "police" the product. With finances, when you take care of your money, you have an audit team that makes sure numbers are in order and that people are doing the right things. I'm no different from those people, but instead of money, I'm protecting the product. You have to keep track of your assets and make sure you're getting what you paid for. My job is to make sure we have good product coming in and avoid a potential crisis. If nobody is watching this, you could have some surprises at the end of the day. Customers don't like surprises, and neither do we.
Editor's note: Stay tuned for part two of our conversation with Bill Ching. We'll talk about garment certification later this summer.
---
PEOPLE YOU CAN COUNT ON®
Learn how we make your life easier with brand-building solutions to keep your employees and facilities looking their best.