Corporate Responsibility
Canadian Linen is committed to protecting its employees and the environment, and supporting the people and communities where we do business. We pride ourselves on being a great place to work, stewards of the environment and generous contributors to organizations and citizens in our local area.
---
Safety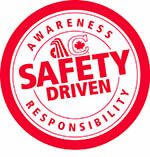 Canadian Linen is committed to providing a safe work environment for all employees.
We value the quality and health of our employees.
We believe no job or task is so important it should be performed unsafely.
We provide a workplace free from recognized hazards.
We maintain a comprehensive safety program and proactively improve safety, with safety training for new hires and on an ongoing basis.
We respond to safety concerns in a timely manner.
The foundation of our safety program is a comprehensive safety training program with required monthly training for all employees. The multi-lingual training ranges from required regulatory training to accident prevention topics. In addition, our Safety Solutions data management system helps us improve safety performance in our plants and on the roads by providing visible corporate oversight of safety activities. Many of our branches have been recognized in their local communities for their engagement and proactive efforts to improve safety inside and outside their facilities.
We have also recently launched our new 'Safety Driven' program, which describes our passion as we vigorously strive toward zero injuries and accidents. The program includes employee awareness campaigns, education efforts for safe vehicle operation and new fleet safety initiatives that we are rolling out company wide, including our new telematics technology. The telematics technology that we are installing in all vehicles will identify unsafe driving behaviors while verbally coaching drivers to correct their behavior in real time. We chose this telematics solution because of its proven track record of improving safe driving, reducing accidents and creating a safer workplace for employees out on the road.
---
Environment

We pride ourselves in clean operations and unwavering commitment to the environment. Our industry is 'green' by nature, and industrial laundries use much less power and water than domestic laundering. The very nature of our service helps other companies avoid contributing to landfills and pollution.
Canadian Linen employs environmentally friendly laundering and we're always looking for production efficiencies to complement our current tactics:
We recycle towels and linens.
We employ ongoing efforts to reduce emissions.
We use NPE-free detergents.
We have water reuse and heat reclamation systems in many plants.
In addition to strict adherence to government regulation, we participate in other voluntary self-regulation activities such as the industry's Voluntary Environmental Stewardship Program (ESP).
In February of 2014, our company was one of the first commercial laundries worldwide to earn the industry's 'Clean Green' certification, signifying our production facilities meet the highest international standard for water efficiency, energy conservation and adopting best practices for reusing, reclaiming and recycling resources.
In addition, we have many initiatives in our fleet operations to reduce energy consumption and our carbon footprint. These include:
The newest and most fuel-efficient fleet in the industry.
Automatic idle shut-off parameters on most of our diesel engines.
Weekly speeding and idling reports to raise awareness and promote behavioral change.
Reminder signage and stickers in all trucks.
Better controls to keep tires properly inflated.
Replacing many cargo vans with fuel efficient sedans.
Aerodynamic skirting on trailers and double-decker trailers to increase carrying capacity.
Rerouting the majority of service center routes to reduce mileage.
Piloting alternative fuel vehicles in several markets (propane, electric and CNG).
---
Community
Canadian Linen demonstrates a commitment to customers by consistently exceeding their expectations through extraordinary dedication and performance of our employees. We believe it's also important to demonstrate a commitment to the communities in which we operate, with the same vigor and focus. To that end, we strengthen our ties to local communities through charitable giving and community relations programs.
There are many ways our branches give back to our communities. We volunteer time, make monetary donations to local causes, provide in-kind services to charitable organizations, and engage in combinations of all three.
Other ways we give back include:
Partnerships with the United Way and other charitable organizations.
Monetary and product donations to non-profit organizations.
Donations of fleet services for transportation of goods.
Teaming up with Salvation Army.
Participation in walks and rides to raise funds for specific charities.
Involvement in local civic and service organizations, awareness campaigns, and much more!

---
Responsible Supply Chain
We take great care in choosing qualified, responsible vendors to support our product and service requirements. This includes formal site visits to manufacturers and distributors and independent product analysis. Our primary vendor partners must operate in a manner that is fully consistent with our values of Integrity, Trust, Respect and Responsibility. This fundamental tenant is the cornerstone of our service commitment to our customers, assuring they receive the right product, in the right place, at the right time – and giving them the solution they expect.
We're Here to Help!
Call 855-326-0940 for the branch nearest you or click below to contact us.