Online Purchasing
There's more than one way to purchase your uniforms from Canadian Linen.
We work hard to deliver exceptional customer service 100% of the time. We built our reputation on our rental business, and we've been working hard to bring this service reputation to our customers with online web store options. So you can choose to rent uniforms, purchase uniforms, or do both depending on what you need.
Canadian Linen® Web Store
Our web store makes it easier than ever to order so that you can take full advantage of your options to rent or purchase your uniforms, depending on your business needs. Our web store is intuitive and easy to use, so you can focus on what's really important – growing your business and serving your customers.
Our web store includes:
Easy registration for Canadian Linen customers – all you need is you account number and billing postal code and you can get started today
Hundreds of products, from t-shirts to parkas
Top brands including Red Kap, Nike, Dickies, Chefworks, Bulwark, and Ogio
Decorator tool with your company logos ready for you to use and an easy personalizer tool for including employee names
Easy group purchasing options
Intuitive filters and search options to find what you want easily
If you have any questions about accessing the web store or you are interested in becoming a customer of Canadian Linen, please contact us at 866-822-4763 or store.canadianlinen.com/
Start Shopping now – Store.CanadianLinen.com
---
Focused e-Store*
Are you in the Food & Beverage industry and looking for a simpler way to manage your employees' uniforms? We've worked with ChefWorks and Dickies to identify key apparel for members of your staff, from the host to the head chef, so that all your employees present a consistent look to your customers. Your Focused eStore includes all the features of our general web store, but also includes:
Your brand on the website
Curated product selection from Chef Works, Dickies, and others for your to select from to manage your brand
Employee allowances that you can manage 24-7 to have employees shop on their own for their uniforms and you only get charged up to a set amount.
Your eStore will help you streamline purchasing and manage your brand across all of your locations.
If you're interested in setting up a Focused eStore, please contact us at 866-822-4763 or webstore@canadianlinen.com
---
Custom e-Store*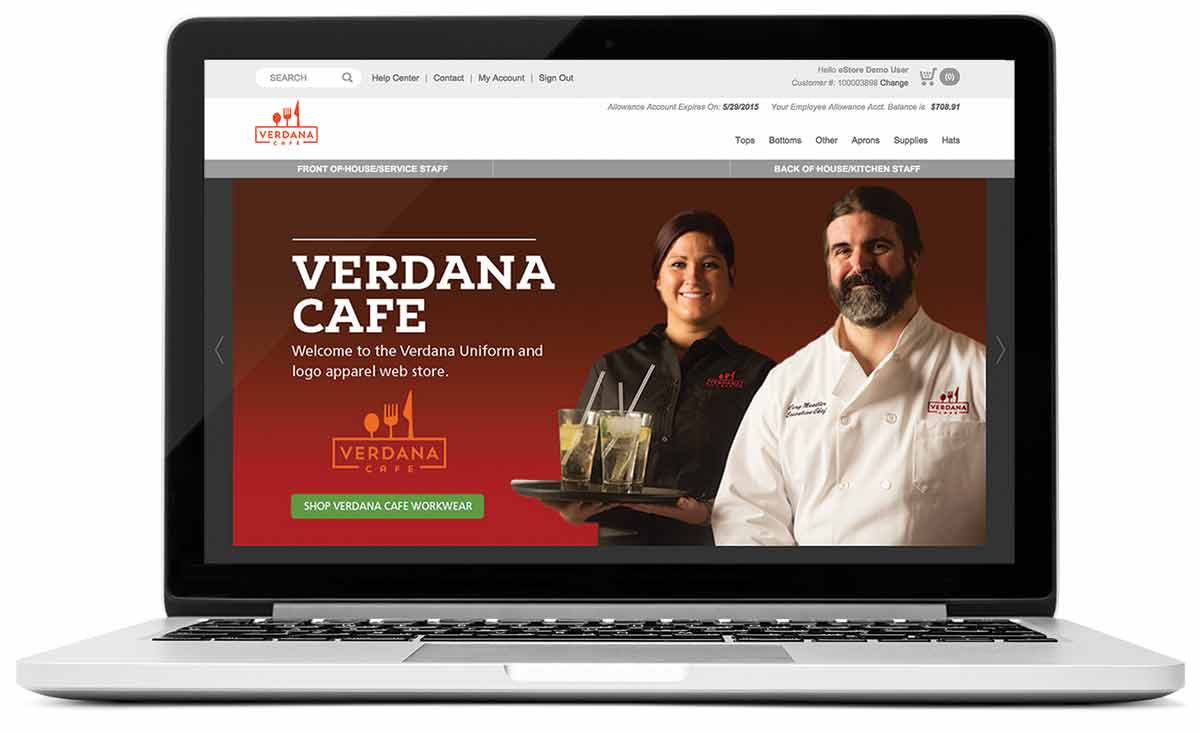 For our larger customers, we can set up a Custom eStore to support your uniform program. The Custom eStore includes the standard web store features, but it provides additional control and support for our Program Customers looking for a more robust experience.
Options for a Custom eStore include:
Use of pre-approved uniform customization, including logos and colours for each product, to support compliance with workwear policies
Uniforms showcased by type, department, job function, and more
Custom look of the web store, including custom URLs, your own images featured on the home page, and additional space for your company information, including easy access to your uniform policy
Additional eStore management options, including allowance management per user for easy budgeting or order approval processes
Dedicated program managers who monitor your program and your Custom eStore
Launch support from Canadian Linen for helping raise awareness among your employees to get them ordering on their own to free up time managing your program and placing orders.
If you're interested in discussing qualifications for a Custom eStore, please contact us at 866-822-4763 or webstore@canadianlinen.com
* Custom and Focused eStores can be created for businesses that meet certain criteria.
We're Here to Help!
Call 855-326-0940 for the branch nearest you or click below to contact us.