Textile rental services company reinforces commitment to environmental sustainability with expansion of alternative fuel vehicles program
TORONTO – (October 18, 2016) – Canadian Linen and Uniform Service, a leading textile rental services and supply company in North America, today announced the receipt of the first of 20 compressed natural gas (CNG) step vans at its Vancouver branch. The company will incorporate the additional CNG delivery trucks into its fleet over the upcoming weeks and months as a part of its ongoing effort to reduce its carbon footprint and lead the industry in environmental sustainability.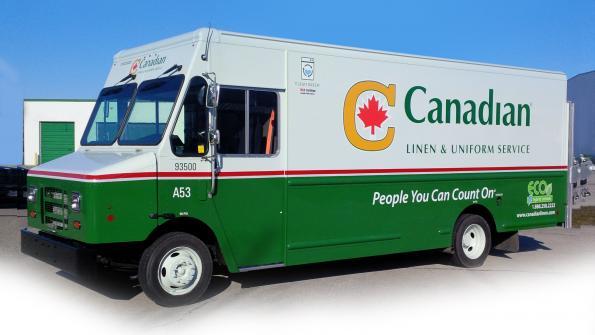 "Canadian Linen is absolutely committed to the environment and expanding our alternative fuels program across the company," said Bill Evans, President and CEO of Canadian Linen. "The company has a strong track record of piloting and incorporating new technology into our delivery operations. We are setting a new standard for clean operations in our industry and continue to invest resources to leverage and help advance green technologies."
Compressed natural gas is a cleaner burning fuel that is produced almost completely in North America. It produces less carbon emissions and lowers exposure to fuel price rate increases. The CNG vehicles are expected to result in 24 percent less carbon emissions as compared to comparable diesel vehicles.
The company's new CNG vehicles are manufactured by Freightliner Custom Chassis and Morgan Olson with the conversion completed by Green Alternative Systems. The vehicles are powered by a General Motors 6L engine and the tanks have 52 usable gallons of capacity.
Canadian Linen chose the Vancouver market for this initiative based on incentive funding provided by FortisBC that assisted with the costs to CNG conversion for the vehicles. In addition, FortisBC made upgrades to their local CNG fueling infrastructure.
"We are extremely excited to be adding these CNG trucks at our facility," said Kris Groom, General Manager of the Vancouver branch. "I look forward to incorporating the vehicles into our delivery operations and taking advantage of the many financial and environmental benefits of this new technology."
Once the new CNG trucks are incorporated into its fleet operations, Canadian Linen will have a total of 36 CNG trucks, 16 propane trucks and 2 electric vehicles in operation across the company, with more to come in the upcoming year. The company has received recognition for its efforts including TRSA's 'Clean Green' Award, Heavy Duty Trucking's 'Top 50 Green Fleets' Award and Fleet Technology Expo's 'Top Tier Light and Medium Duty Efficient Fleet' Award.
The alternative fuel vehicles program is a part of a larger companywide effort to be more sustainable and environmentally friendly. Other fleet initiatives the company has implemented include trailer skirting and double-decker semi trailers; fuel efficient sedans for the service team and the installation of telematics technology and route optimization software to reduce mileage and increase efficiency. The company is also piloting solar power and installing heat reclamation systems in its plants. More details on Canadian Linen's efforts can be found in the company's Corporate Responsibility Report that outlines key initiatives across the company.

About Canadian Linen and Uniform Service
Headquartered in Toronto, Ontario, Canadian Linen is recognized as the largest textile rental and supply company in Canada. Operating more than 115 production facilities and service centers throughout North America, the company provides linen and towels, uniforms, floor mats, restroom and cleaning products to nearly 150,000 customers through rental and purchase programs. As a true business partner, Canadian Linen helps customers improve their image while keeping facilities clean and employees safe. Innovation, personalized service and a dedication to company values has sustained the private, family-owned company for more than 125 years. Canadian Linen's demonstrated commitment to customers, the community, employees and the environment has made them the People You Can Count On. Additional company information can be found at www.canadianlinen.com.
About FortisBC
​FortisBC is a regulated utility focused on providing safe and reliable energy, including natural gas, electricity and propane. FortisBC employs more than 2,200 British Columbians and serves approximately 1.1 million customers in 135 B.C. communities. FortisBC owns and operates two liquefied natural gas storage facilities and four regulated hydroelectric generating plants, approximately 7,200 kilometers of transmission and distribution power lines, and approximately 47,500 kilometers of natural gas transmission and distribution pipelines. FortisBC Inc. and FortisBC Energy Inc. do business as FortisBC. FortisBC is indirectly, wholly owned by Fortis Inc., a leader in the North American electric and gas utility business. Fortis Inc. shares are listed on the Toronto Stock Exchange and trade under the symbol FTS. Additional information can be accessed at www.fortisinc.com or www.sedar.com.