Commercial laundry receives highest industry designation for clean operations across the company
TORONTO – (April 19, 2017) – Canadian Linen and Uniform Service, a leading textile rental services and supply company in North America, today announced that it is has been re-certified 'Clean Green' by the Textile Rental Services Association (TRSA). This voluntary industry designation signifies that its production facilities meet the highest standards for operational efficiency and sustainability and have met all criteria for certification.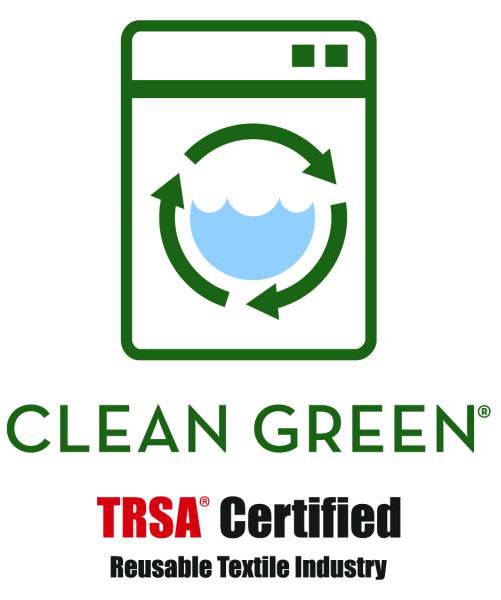 "This recognition demonstrates our ongoing commitment to sustainability and clean operations across the company," said Brian Keegan, Safety and Sustainability Officer for Canadian Linen. "Our work to achieve and maintain certification, along with our efforts to employ new production and delivery methods and new technologies that complement our existing operations, have helped to establish ourselves as an industry leader in this area."
Clean Green certification provides third-party verification that the uniforms, linens, mats, towels and other reusable textiles procured from Canadian Linen are laundered in an environmentally friendly manner. It is the only industry certification that quantifies and validates a commercial laundry's environmental sustainability.
To attain Clean Green certification, a commercial laundry must comply with specific water and energy standards and demonstrate best management practices. Some of the innovative programs Canadian Linen has implemented across the company include adoption of heat reclamation systems, water conservation programs, environmentally friendly detergents, solar energy, alternative fuel vehicles and mat recycling programs.
"I applaud Canadian Linen for their ongoing sustainability efforts and maintaining the highest standards in their production and delivery operations," said Joseph Ricci, TRSA president and CEO. "Meeting all the criteria for certification is not easy, but the company consistently raises the bar and leads the industry in adopting new and improved processes and technologies."

About Canadian Linen and Uniform Service
Headquartered in Toronto, Ontario, Canadian Linen is recognized as the largest textile rental and supply company in Canada. Operating more than 115 production facilities and service centers throughout North America, the company provides linen and towels, uniforms, floor mats, restroom and cleaning products to nearly 150,000 customers through rental and purchase programs. As a true business partner, Canadian Linen helps customers improve their image while keeping facilities clean and employees safe. Innovation, personalized service and a dedication to company values has sustained the private, family-owned company for more than 125 years. Canadian Linen's demonstrated commitment to customers, the community, employees and the environment has made them the People You Can Count On. Additional company information can be found at www.canadianlinen.com.

About TRSA
TRSA (www.trsa.org) is the only organization advocating fair, balanced regulation and pro-business tax, labor and energy policy for the $16-billion U.S. textile services industry that employs nearly 200,000 people at more than 1,500 facilities nationwide. TRSA also provides professional development, benchmarking and training resources that increase productivity and efficiencies for companies that launder reusable textiles, which help businesses project a clean and attractive public image. Most Americans benefit at least once a week from the cleanliness and safety of laundered, reusable linens, uniforms, towels, mats and other products the industry supplies to the service, industrial/manufacturing, hospitality and healthcare sectors. TRSA quantifies our industry's commitment to cleanliness and sustainability through its Clean Green and Hygienically Clean certification programs.