Canadian Linen is launching a new online ordering tool that will help restaurant customers simplify their uniform programs and manage costs by offering customized online stores with specific, approved products, logo customization options and employee spending allowances
TORONTO, ON – (October 5, 2015)
–
Canadian Linen and Uniform Service, a leading textile rental services and supply company in North America, today announced expanded partnerships with Chef Works and Dickies that will enhance its uniform offering for the Food and Beverage (F&B) industry. In addition, the company announced the launch of new 'Focused F&B eStores' that make it easier for restaurant customers to place orders and manage uniform programs online.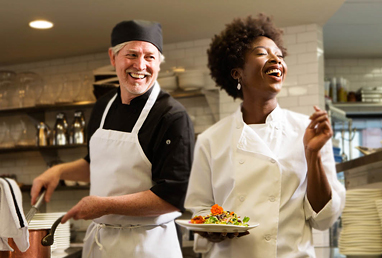 "Executive chefs have been asking us for more comfort and fashion for themselves and their team," said Andrew Steiner, VP of Marketing and Customer Operations at Canadian Linen. "At the same time, managers are looking for uniform programs for their front-of-the-house employees that support their restaurant image and are easy to manage. Chef Works and Dickies each have an incredibly strong brand presence in the F&B industry and these partnerships allow Canadian Linen to expand our offering and deliver a more diverse rental and purchase offering to the market."
In addition to the new products, Canadian Linen is launching a new online ordering tool that will help restaurant customers simplify their uniform programs and manage costs by offering customized online stores with specific, approved products, logo customization options and employee spending allowances. Focused F&B eStores are the latest addition to Canadian Linen's suite of digital tools that were launched in the last year to help improve the customer experience and provide better service through technology. Together with the online Customer Portal, Canadian Linen customers have more visibility and control over their uniform and linen programs.
"We believe that the broad offering from these strategic vendor partnerships and our new Focused F&B eStores will position us as a true partner in the F&B industry and allow us to offer a full range of solutions to existing and prospective customers," said Steiner. "We've never been better positioned to serve F&B customers and these latest advancements will solidify our industry leadership in this space."
Canadian Linen is the largest official industrial laundry partner to Chef Works in North America and will now offer a broad range of uniforms and aprons featuring light-weight, blended fabrics, Cool Vent™ technology, women's fits, and more colors and styles for restaurant employees. Products were tested to ensure they retain their quality and appearance after multiple washings throughout the duration of a customer's rental contract.
About Canadian Linen and Uniform Headquartered in Toronto, Ontario, Canadian Linen and Uniform is recognized as one of the largest uniform rental and linen supply companies in Canada. Operating more than 35 production facilities and service centers throughout Canada, Canadian Linen provides linen, uniforms, floor mats, restroom products and facilities services to nearly 80,000 customers every week. Founded in 1925 in Vancouver, the privately held company is still owned and managed by the Steiner family. Commitment to the customer, personalized service and innovation has sustained the company for nearly 90 years. Additional company information can be found online at www.canadianlinen.com.