Complete Customer Care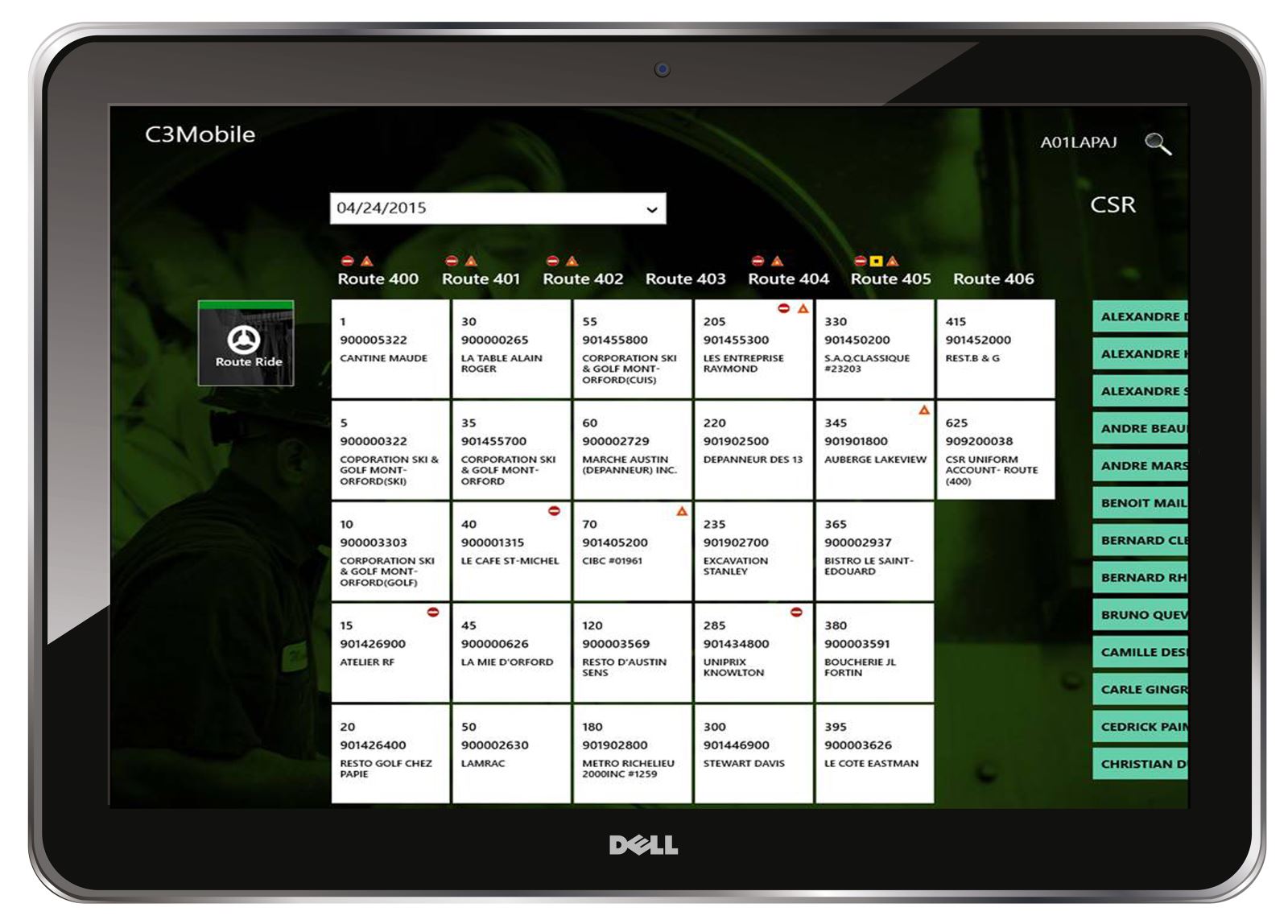 These days, the way modern companies do business is constantly changing. The lines between digital and physical are blurred and businesses are busier than ever. The way you manage your invoices, order supplies and deal with your products and programs all require a new, modern touch. That's where Canadian Linen and its Complete Customer Care (C3) initiative come in.
Our C3 approach combines focused employees with industry-leading technology to bring you solutions specifically tailored to your business needs, such as:
Dedicated C3 account teams that deliver experienced, local support
Accurate deliveries and efficient service
Proven programs that drive total satisfaction
---
Innovative Technology
"They truly grasped Windows' functionality to create an intuitive, user-friendly application with both online and offline capabilities and were able to create a unique and customer-centric final product that rivals some of the best Windows work we have seen." - Margaret Arakawa, GM US Windows & Devices
Equipped with innovative, industry-leading technology, your C3 account team has the mobile tools to deliver expert oversight and transparent, proactive services to all locations.
Through our proprietary C3 Mobile service platform, we always have access to the latest information about your account and can make adjustments live to meet your important, immediate needs.
Bar code scanning and RFID tracking programs for mats and garments ensure correct delivery of products in the right quantities without oversight.
Our online Customer Portal provides easily accessible account data so you can manage your program details from your tablet or mobile phone.
Our Web Store allows for easy, 24/7 online shopping and ordering.
---
Dedicated C3 Account Teams
Your C3team is with you from start to finish. We'll get your program up and running and partner with you over time to make sure that it continues to meet your needs.
A 4-week check-in with your Sales Executive and Service Team after the initial installation, along with regular oversight, verifies that your new program fits your business.
Your Customer Service Representative (CSR) will get to know you and your business personally by making regular deliveries, monitoring inventories, maintaining quality control and validating billing.
Your Customer Service Manager (CSM) performs quarterly program performance reviews to discuss your past and future data to best determine proactive future plans.
---
Total Satisfaction
Canadian Linen brings insight and experience serving local, regional and national customers for more than 125 years. With our proven programs and C3 support, you'll be confident that you have the exact inventory you need, when you need it.
Canadian Linen representatives have inventory management expertise, which means you can focus on priorities other than inventory.
Our Inventory Assurance program prevents shortages, ensuring that you always have the non-garment inventory you've paid for readily available.
Weekend on-call service keeps you covered if an unexpected emergency arises.
Through an independent research firm, we conduct satisfaction surveys with 600 customers every month to measure and continually improve our performance and service delivery.

93% of customers give positive ratings on our delivery process and would recommend Canadian Linen to another business.
95% of customers give their delivery person high ratings.
---
Learn More About Other Programs
We're Here to Help!
Call 855-326-0940 for the branch nearest you or click below to contact us.