BUT FIRST, DESSERT
Marshmallow brownies, cookie sandwiches, fruit tarts and layer cakes. And guess what – they are all nutritious (and delicious)! Michelle Moraes and Chris Curtis believe nobody should have to skip dessert. On a mission to provide treats with real ingredients for all, the business partners started The Butternut Baking Co. earlier this year. The sweet spot is Toronto's first all-natural, 100% gluten- and grain-free bakery. Michelle shares how they filled a niche, whipped up naturally sweetened treats and joined a thriving community.
Were you always into baking?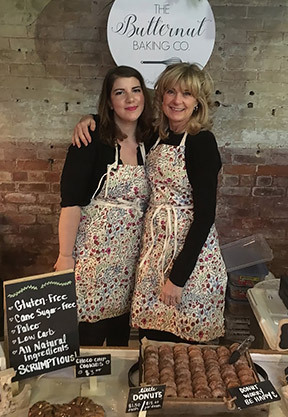 Growing up, my grandmother introduced me to baking. She made everything so magical! I grew up learning how to do traditional flour and sugar baking. It wasn't until much later that I decided to take what she taught me and transform it a little bit. When I was a teenager, my first job was at a bakery in a grocery store. I went to university for something completely different and eventually steered myself back to the love of food.
You opened your storefront about four months ago. Talk about the journey to get there.
It all happened pretty fast! Last summer I was looking for employment that I would be passionate about and that meant something to me. My business partner, Chris, and I went Paleo a few years ago for health reasons. It changed our entire worlds. And we realized there wasn't really access to health-inspired baked goods without cane sugar and grains that are diabetic and ketogenic friendly.
So we started developing recipes and eventually went to farmers markets to test out our ideas. They were received so well. In January of 2017 we decided to take the leap, which was pretty terrifying. Baking equipment is expensive! To help with costs, we put together a Kickstarter campaign, and it was so successful! We had over 60 contributors. We couldn't have opened without them. It took a whole village to open our doors!
How has the response been so far?
It has been 100% positive. I was overwhelmed with the soft opening and grand opening. Both days sold out! We thought we had baked enough for three days and it all went in one day. My favorite customer so far was at one of the farmers markets. She said she hadn't eaten cake in 50 years! She is a Type 1 diabetic. I told her about the ingredients we use, and she tried it. She wrote me a beautiful email saying, "Thank you so much. This was the first time I was able to enjoy dessert." That really hit home.
How big is your team?
Well we are currently hiring! We have five people total, including myself and my business partner. We are super small, working long days so hopefully we'll add more people soon! We wanted to start small because we really weren't sure what the trajectory would be in terms of getting the word out and growing the customer base.
Speaking of getting the word out, how are you marketing your business?
We've started with social media. It really began with Instagram. I was baking on my own and posting photos and noticed I was getting more and more followers. I decided to start an account for the business too. A lot of our customers are finding us online and through Facebook. We haven't advertised anywhere yet. It has been word of mouth and social media. Also, the Toronto Star wrote a nice article about us.
What's your favorite treat on the menu?
Forever donuts! The mini donuts are our customer favorite. They remind me of going to the carnival as a kid. I remember getting them in the bag and shaking them so the sugar would stick to the hot donuts. They were so good, but I always felt sick after eating too many of them. So I wanted to create something that had the same flavor but didn't make you feel awful afterwards. It was our very first recipe. We made them last summer in a cabin with no running water in a pan that fit in a toaster oven! We fell into that recipe by mistake.
We're starting to expand into our savory line. We do pizza rolls and eventually we want to do pot pies and quiches. The mini donuts remain our best seller. It's hard to keep restocking them because they take awhile to make but they generally sell out. They are fun to play with. You have your basic donut recipe and then you can do different flavors and toppings.
How were you introduced to Canadian Linen?
My partner and I were looking to source a laundry service to ease what we have to do week to week aside from the baking. We even debated on getting a washing machine in the shop! When we were approached by all these companies, they wanted to lock us in for three years, which is way longer than our actual lease. It's hard to commit to something like that for a longer time than what you committed to a landlord. Canadian Linen came to our door and the rep was awesome and super accommodating.
It's really refreshing to have a large company like Canadian Linen support the small ones. That's what made me want to be a part of your services. You work with people who are trying to start a new venture that isn't established yet so that's really special. I definitely think that's the best quality of Canadian Linen, aside from the great products. And your staff seems really happy, which is a good indication that it's a great company. From our delivery guys to the sales reps, everybody is so nice and friendly. At the end of the day, it isn't an apron that you're selling; it's truly the customer service and that's what makes you go beyond everyone else.
Talk about your shop location.
We're in Toronto West in the Junction neighborhood. It has so much history. The old railroads are still here. The area used to be under prohibition a few decades ago. All the buildings still look the same. The insides have been renovated but have kept the character. Our building used to house a print shop for over 50 years. Before we chose this location, we had looked at so many places. When we walked in there was junk everywhere and no ceilings, but we instantly fell in love with the space. The bones of the building had the original brick and framing on the doors. All of these local businesses have come into the neighborhood and brought life back to the community. It's awesome to be a part of it.
Photo Credit: Michelle Moraes
---
PEOPLE YOU CAN COUNT ON®
Learn how we make your life easier with brand-building solutions to keep your employees and facilities looking their best.