OVERSEAS COLLABORATION
It's easy to take for granted the large inventory of uniforms and linens that we're able to supply to customers across Canada and the United States. A key production partner is our factory in Zhongshan, China, located near Hong Kong. We've been manufacturing in China for 28 years.
A couple times a year, a group of Canadian Linen employees visits the China factory and some of our suppliers. Let's take a tour of the facility with Dave Rotman, VP of Marketing and Supply Chain, who recently spent time at the plant.
Talk about the beginnings of our involvement in the China factory.
In the mid 1980s, Canadian Linen and a partner of ours invested in a textile factory to be built by the local provincial government. Universal Uniform, a local Chinese company, was formed to manage the factory. As a result of our investment, 100% of the factory output goes to Canadian Linen and our partner. Universal Uniform is ISO 9001 certified and has managed the factory since it opened in 1988.
In the 1960s, the majority of people living in the People's Republic of China were farmers. Under communist rule, travel was restricted and if you were a farmer, the opportunity for you or your children to do something else was very limited. Then in the 1970s, things began to change as China began the transformation from a primarily agrarian economy to a modern society. One of the biggest challenges was housing. As people migrated from rural China to the factories in the cities, there was not enough housing for the workers. So companies started to build dormitories near their factories.
How are our living quarters set up at the factory?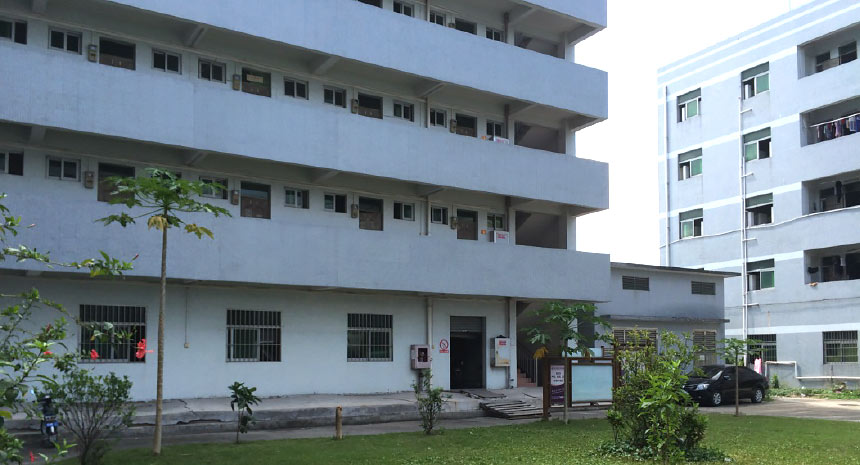 We have dorm buildings right next to our factory. There are three types of dorms – male, female and family dorms for married couples. There is a cafeteria on site that provides free breakfast and lunch during the work hours. Employees cook in their rooms for dinner and on their days off. Our factory is considered a very nice place to work compared to other factories.
We have approximately 300 people working in the factory. During the Chinese New Year, everybody goes back home and the factories shut down for two to three weeks in February.
What type of fabric quality testing is performed?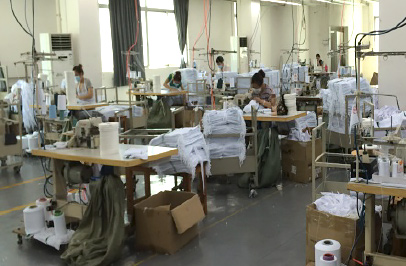 We perform a number of tests to ensure the quality of the fabric and design of the garments will be comfortable, durable and washable. We start by weighing fabric to make sure a 6.7-oz. fabric is actually 6.7-oz. fabric, for example. Crocking, zipper, tear, weight, tensile strength, colorfastness and pilling are the main tests we perform at the factory to determine how well a garment will wear, fit and perform while still looking good.
Finally, we wash test garments to make sure they are able to withstand the rigors of an industrial laundry. In order to get industrial garments clean, industrial-size washing machines subject garments to severe mechanical agitation, as well as laundry detergents and sometimes temperatures that would typically ruin clothes made for consumers.
Explain the operations in the China factory.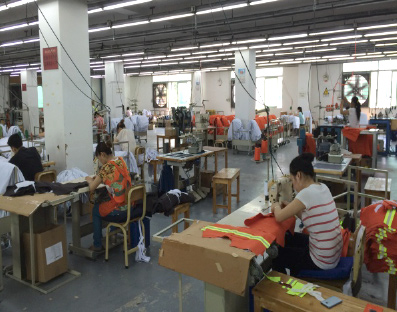 Our factory is a "cut and sew" (final assembly) factory. We purchase our fabric from a mill. We produce FR garments, aprons, microfiber towels, grill pads, pants, chef coats and dress and work shirts.
We have outstanding workers. I happened to catch a video of the second most productive microfiber towel maker in the plant. You know who is number one? The person who sits next to him – his wife!
We have two female factory managers. It's extremely rare to see female managers in China, so we're pretty different, progressive by Chinese standards from what I have seen. The mayor of the city has told me we're doing a really good job and we have a great partnership. And he said we're known as a factory that treats people really well, which we're very proud of.
---
PEOPLE YOU CAN COUNT ON®
Learn how we make your life easier with brand-building solutions to keep your employees and facilities looking their best.