FRESH SUCCESS
Anne Saxton, owner of The Draft Horse in Minneapolis, MN – along with partners Luke Kyle and Katie Kyle – knows exactly where her food comes from because she sources most of it from right down the hall. Taking farm-to-table to another level, they're able to borrow from their Food Building neighbors' artisanal abundance. On the seasonal menu, you'll find freshly made cheeses, cured meats, baked-that-day breads and honey produced in rooftop hives. In less than a year in business, The Draft Horse has carved out a niche by keeping it local and surrounding themselves with the right partners.
Saxton shares her thoughts on the journey to restaurant ownership, the importance of sustainable resources and the value of engaging with the community.
How did you end up becoming a tenant of the Food Building and partnering with owner Kieran Folliard?
Luke Kyle's family goes way back with Kieran. When they immigrated over here from Belfast, they used to play music in the original Kieran's Pub on Sunday afternoons. There are a lot of connections. We heard Kieran was doing the Food Building project and that there was an empty space over here. We asked him if we could look at it. Then we proposed our idea for sharing family-style dinners with fresh ingredients and went from there.
Talk about the collaborative environment in the Food Building and how that's benefitting what you're doing here at The Draft Horse.
From a marketing angle, there is a huge bonus for cross promotion for every brand that is in this building. That was really important to me going into this restaurant because marketing is an important issue that businesses face, but we have four brands now that all work together to promote each other. So all the cured meats that Red Table Meat Co. makes, we're selling here on the menu and sliced fresh for grab and go in the deli. Baker's Field Flour & Bread, we're using and selling all their breads. We have honey from The Beez Kneez's rooftop hives. And same with Lone Grazer Creamery's cheeses – all of their products are on the menu and here in the deli. Those makers go out to a lot of farmers markets where they are sampling and selling all of their brands plus our restaurant so we get a lot of extra visibility that way. We go to a lot of foodie events and serve the foods that come from the Food Building, so they're getting visibility that way. So pretty much where one is recognized, we're all a part of that conversation.
Why are locally sourced ingredients so important to you?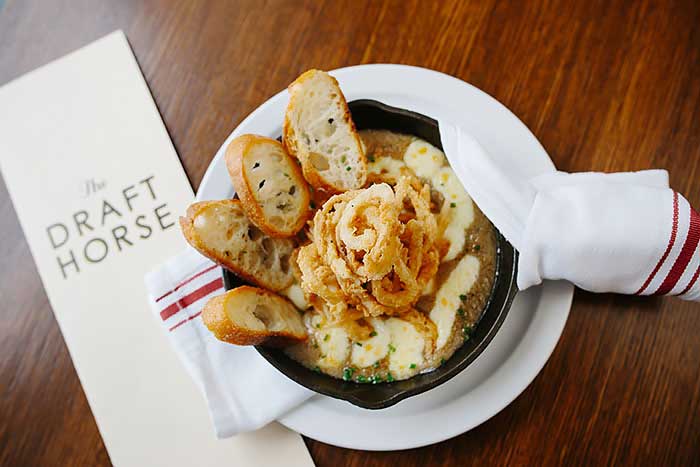 In today's world, you're taught that you want to know where your food comes from and how it was made. And that was a huge part of what I learned working with Kim Bartmann (owner of several local restaurants including Barbette, Bryant Lake Bowl, Red Stag Supperclub and Pat's Tap). And that's really important to Katie and Luke as well. We're here in the neighborhood, and we want to represent what's around us. Growing up in Ireland, Luke's family had milk delivered to their doorstep every day. The bakery, butcher shop and grocery store were just down the street. Everything they used came from their neighbors.
Aside from the Food Building, do you partner with other local vendors?
We partner with Baker's Acres, and we just did a Dinner on the Farm event with her in Avon, Minnesota. We get the majority of our produce from her during the summer, plus Bruce Bacon's farm in Ramsey, Minnesota, Garden Farme, the oldest organic farm in Minnesota, and Boot Strap Farm in South Minneapolis. Our beef comes from Peterson Limousin Farm in Osceola, Wisconson, chicken from Kadejan in Glenwood, Minnesota, and lamb from Minnesota Specialty Meats in Glencoe, Minnesota. Mississippi Mushrooms forages mushrooms for us, plus our own staff bring in what they also forage. That's pretty much our menu!
Since a majority of your ingredients are "of the moment", how do you plan your menus?
It really depends on what the farmers are producing. Obviously the growing season is important. For instance, we consult with the farmers for produce to see what is ready, and we incorporate those into our menu. In the winter we had a lot of root vegetables. Right now it's more garden produce.
When you're sourcing purveyors like that, can it be tough? And if so, why do you feel it's worth it? Is it a branding, ethical or quality consideration?
Definitely. I think it's all of that. It goes back to knowing where your food is coming from and the education that's out there right now for the consumer. Guests want to know that the people they're purchasing this food from are responsible buyers and passing along the right product that they're paying for. It's really important to us.
Are customers engaging with that?
Oh yes! It's all over our menu. We're really transparent about where everything comes from, and especially this connection next door, being able to take tours of the production facilities, see photos and reading the story boards. We're just expanding on the story that the Food Building is already telling.
What has been the feedback so far?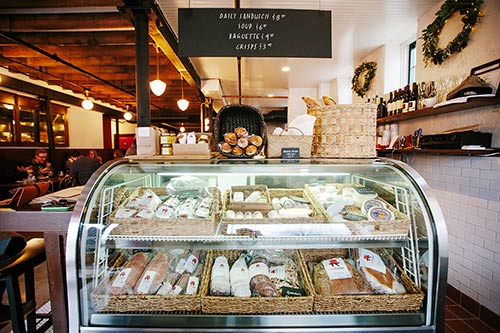 We've been very blessed with a lot of press since opening. The charcuterie plate was featured in the Food & Wine FWx lifestyle blog, which was really exciting. We won 2016 Best New Restaurant – Readers Choice in City Pages. A lot of the press has written about our pot pies because we opened in the winter, and those are our number one sellers. I was a little worried about the pot pies in the middle of the summer but people still order them. They love them!
How do you market your business?
My marketing strategy is trying to get as much mileage as we can from the press we received when we opened, and knock on wood that press continues. Anytime the Food Building is talked about, we're included so that's huge for us. We just started radio advertising with The Current on MPR. We really connect with those consumers. We try to support non-profits in the community by donating gift cards to silent auctions, donating food to events, really grass roots. And social media – we're really focusing on Instagram right now. We had an Instameet in the Food Building last month. It's hard for small businesses to have a big marketing budget, so I try to make the most of any marketing opportunity that comes along.
How do you see your role in the community?
We really take that role very seriously. We wanted to be in a small space in Northeast Minneapolis to create a welcoming, cozy neighborhood spot. Luke also owns The Anchor Fish & Chips, which is just a few blocks away. Luke and Katie live in the neighborhood. And having worked with Kim Bartmann, her number one focus is community and giving back to the neighborhoods where you reside – that business mission is ingrained in me. We want to be the neighborhood staple that's here for 20 years. We try to keep our price points reasonable. We want people to be able to come here for dinner on Sunday and Tuesday nights and not be the special occasion restaurant. We want to participate in and host community events. The Food Building has hosted three successful Pizza Farms that feature multiple businesses and community groups. The next one is October 16th. We were part of the Mission Nutrition Fundraiser a few days ago, which raises funds for the East Side Meals on Wheels.
What about vendors outside of food partnerships. Are those decisions difficult to make when you're opening your doors?
They can be. But thankfully, because of Luke's existing relationships with vendors at The Anchor, we're working with a lot of the same vendors. For example, AmeriPride is our vendor for chef coats, aprons, mats, mops and towels. It was important to us to work with local family owned vendors.
How do vendors help you do your job better? And how important is that relationship?
When we opened, our rep came to us and said here's what you need. And when you're opening a restaurant, the less decisions you have to make and catalogs to flip through is great. He knew exactly what we needed, that was key. It just kind of takes care of itself. You don't have to think about it too much. We can focus on the food and marketing.
Any plans for expanding space-wise?
No, we definitely want to keep it this small, intimate setting. The whole restaurant concept came from family-style dinners and family roasts that we used to do just as friends. That's really what our menu is based upon and how it took shape. And it's of course influenced by everything that is coming from next door. We love the intimate setting and how it plays a role in the whole experience.
Photo Credit: Michelle Allen
---
PEOPLE YOU CAN COUNT ON®
Learn how we make your life easier with brand-building solutions to keep your employees and facilities looking their best.