THE PATH TO LEADERSHIP
As a fourth-generation family owner, Andrew Steiner has been part of the uniform and linen business long before he could say the word "laundry." His early exposure to the world of industrial laundry sparked a desire to find how he could contribute to the company. We recently sat down with Andrew to talk about his experiences with AmeriPride and Canadian Linen as a family member, intern, and employee and how those experiences have prepared him for his current role as Canadian Linen's Senior Vice President of Canadian Operations.
Tell us about your upbringing as a member of the Steiner family and your early exposure to the industry.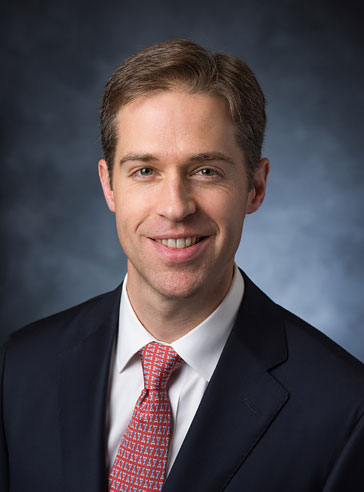 I think of myself as being born into the industry, not just because of the family connection but because my Dad was leading our European operations when I was very young. My parents lived in Brussels for four years and that's where I was born. Growing up, AmeriPride had an office in downtown Minneapolis, Minn. We frequently visited my Dad at the office, so early on that was just part of our identity.
I think the business really became more real and relevant to me and to the broader family owners when we started holding the annual family meetings in the 1990s. Each year, everyone comes together from all over the country to talk about the business and reconnect as a family. The annual meeting has really pulled geographically separated family together around a common vision for the business.
When do you remember first learning about the business?
Growing up, we had AmeriPride mats and bed linens at home. We had a truck come to our house every other week. I got to see the truck and the CSR make the deliveries so that was the real connection with the service early in my life. In addition, because our products are very visible in everyday life, you end up talking about it as a family when you're at the grocery store, gas station or restaurant. We started exposing our own kids to the brand at age two. When we walk into a business we'll say, "Look at the corner of the mat. Is that our logo?"
Do you remember when you showed interest in pursuing the family business as a career?
During college, I interned in our Information Systems department. My undergrad degree is in computer and electrical engineering so that was totally up my alley. I worked on our very early radio frequency identification (RFID) efforts. I spent time in Los Angeles where we were installing our first garment sortation equipment. We were doing some really cool things with technology, and at the same we were developing our own software platform for billing. But our core systems were falling behind. So early on it captured my attention. I thought, "This is our family's investment. I could probably help out in this area with my skill set." So that was the first spark. I ended up joining the company full time a few years after college, and I've been here for over 15 years.
Walk us through your career path with AmeriPride and Canadian Linen.
When I joined the company in late 2001, the first couple years were in the IS area. I worked on the same route accounting platform that I helped with as an intern. It was a really good way to learn the business because I was spending a lot of time at the level of customer data and transactions to understand the relationship we have with the customer. It was also a great way to develop connections across the company.
I worked in strategy and management reporting for a year or two, and then began running our direct sales catalog. The challenge was to bring the catalog online and virtualize the supply chain.
The move into senior leadership happened when I led efforts to align our company tagline "People You Can Count On" with our everyday customer service activities. We identified internal best practices, such as how to structure teams, run the account management programs, interact with the customers, pay and train employees, and built that into our Complete Customer Care (C3) program, which ultimately became the standard across the company. It's been revolutionary for our relationship with the customers and transformational for our business.
Most recently I had the opportunity to lead marketing. I reflected on how we improved results for the customer and then our team created ways to tell that story. Everyone is stating they have the best service, which is easy to say, but how do you showcase it and make it tangible? That's where the digital strategy really helped us. We could demonstrate that we were providing better service through technology – including our C3 Mobile application, online Customer Portal, a new Web Store and handheld computers for our Customer Service Representatives (CSRs).
My purpose now is how to add value for the Canadian operations team by more tightly integrating our functional leaders with field operations and accelerating the feedback loop from customers and our employees into our decision making.
Speaking of Canada, you're coming up on the half year mark as Senior Vice President of Canadian Operations at Canadian Linen. What has been your greatest learning so far?
There is a strong appetite within the organization around how we're going to grow. The drive to grow, outperform the competition and execute effectively in sales and service is really strong. What I'm spending a lot of energy on is local leadership. I'm focusing on making sure we have the right talent in the right places. I'm a firm believer that 80% of what makes a market work is great leadership and market share. If we have those two, we're in a good position to succeed.
What are you most proud of throughout your career at AmeriPride and Canadian Linen?
I'm really proud of our employees and our community service outreach in the markets where we operate. I also admire the new family scholarship program that Larry Steiner established for our employees. And being a part of developing and launch the C3 program is something I'm most proud of. It's all about changing the culture of the organization to be more customer-service oriented and to perform for the customer.
What do you see as opportunities for growth or improvement as a Canadian company?
I'm super excited about the upcoming launch of our first aid offering. There's a huge opportunity there. Our early pilots have shown tremendous results. It's a great service for our customers and provides excellent value for them.
I think there's a ton of opportunity with our customer base. It's important to nurture relationships and provide ever increasing value to the customer. The more products and services they utilize, the more they will value us and our partnership. There are really strong and accelerated quantities of leads coming from our existing and new customers. Our service and sales teams are fully embracing those customer development opportunities.
Touch on your top initiatives for the remainder of 2017.
For our customers, our brand is about executing well for the customer, and we want to continue to earn and keep our customers' trust. Continue to deliver great service, and bring our customers enhanced value through additional products.
With our employees, I want to enhance our speed of execution and decision making through enhanced trust among peers. We need to be more nimble. We shouldn't be afraid to fail, but when we do, we need to recognize it quickly and move on.
---
PEOPLE YOU CAN COUNT ON®
Learn how we make your life easier with brand-building solutions to keep your employees and facilities looking their best.