TOUGH ENOUGH
Imagine disassembling and relocating oil drilling rigs in the Permian Basin of southwestern New Mexico and western Texas. Now imagine doing this work for 14 hours in 100 degree weather in long-sleeve, fully buttoned shirts. You definitely want that shirt to be lightweight, allow for range of movement and wick away moisture, all without compromising protection.
That's why David Beach, Chief Human Resource Officer at Wilbanks Trucking Services, jumped at the opportunity for his employees to test the new Bulwark® FR iQ Endurance workwear. The new fabric construction is the latest innovation to FR garments in 20 years and it's already proving to be a game changer for the company's four locations. Beach explains how the new uniforms are helping Wilbanks Trucking Services thrive in a demanding, ever-changing environment.
How did you hear about the new Bulwark FR iQ Endurance garments?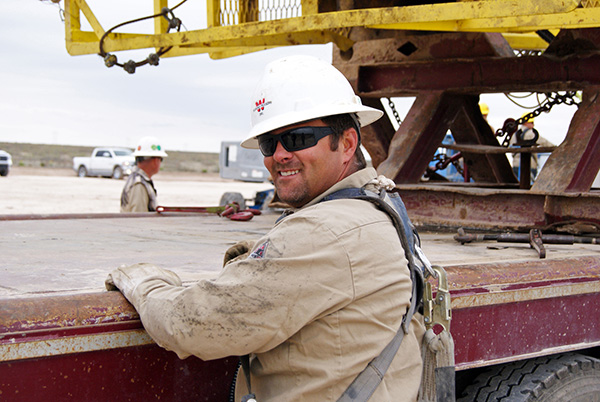 I wouldn't have known about the new shirts if it wasn't for our Canadian Linen representatives. They proactively thought outside the box and called to say they had a new FR line with Bulwark. I don't have enough time to keep up with uniform trends – I depend on Canadian Linen to do that for me! So when this new weave and design came out, I thought it showed super customer service to just bring us a few to look at. The service center thought it would be value added for us – and it has been.
How did you decide that the FR iQ line was right for your team?
At a leadership meeting about four months ago, I told the team that we were going to wear test these shirts to possibly convert. So we went with the gray for leadership since we wanted to keep all the workers in khaki, which is a nice light colour for our high temperatures. We liked that the FR iQ shirts came in a few different colours because we had been trying to figure out a system for easily identifying team members. We found that the shirt was the way to go. Whether it's someone from our company or a visitor on the job site, if you see a gray shirt, you know that's a leader who can make a decision or help out. From a safety perspective we set it up that way.
Heat injuries are a constant concern for us in the Permian Basin. The FR iQ uniform shirt offers our employees FR protection with the additional benefit of a lighter and breathable material. – Shane Phipps, Safety Director
Another thing I like about Canadian Linen and the FR iQ line is that they also offer coveralls for our employees who prefer those to a shirt and pants. A lot of companies don't offer that option.
How has the process gone so far?
We have 200 employees in four locations so it takes awhile to convert. We started experimenting in one location and then branched out from there. It's worked really well transitioning to the new uniforms and adding our custom patching and names. The branch has been able to turn them around in a week, unless it's a one-off size. We issue 13 sets so that each employee has six, another six would be getting laundered and there is one extra.
I've been converting about 10 people a week. This morning, while the team was getting ready to go out to work, they were giving me a hard time because everyone wants to know when they are getting their new shirts. That's a win! The people who are at the end of the list are a little upset with me, joking of course. I have to tell them we're going purely off wearer numbers. It's nothing personal!
What type of feedback have you been hearing?
We've received really good compliments. It's a much superior shirt to the 9 oz. shirt we were using. It has a place for them to hold their radio up by the collar, and a place to put their H2S monitors, which is what we use to check for poisonous gas.
As far as comfort, the shirt has gussets at the shoulder for movement. It may not seem like that big of a deal, but our workers are throwing chains and straps and are constantly bending and turning so that little bit of extra movement is a huge benefit. It's also made with a nice weave that provides airflow. Our team is outside all day, and they may work 14-16 hours – anything you wear that long, even if it's your favorite jeans working in the yard – that's a long time. You want that airflow.
I really appreciate the lighter fabric of the new shirt. The difference is amazing! – Michael Calderon, Winch Truck Operator
An employee who dresses professionally is more comfortable and protected – that's a win for me and for the employee. If the uniforms are comfortable, they will wear them, and wear them correctly. They will button them and tuck them in. If they are uncomfortable when they get out of the truck, you have to remind them to properly wear the shirt.
How have the shirts been to maintain?
We did wonder about the washability. If you don't take care of FR shirts properly, they can lose their FR properties. That's why we tell the employees to not take them home to wash. Not only might it get your washing machine full of hydraulic fluid but you're going to damage the properties that make it flame resistant.
We also enrolled in the Image Care program. So if we have a shirt that is extremely stained or has holes that can't be repaired, the branch will switch it out. It's really important for our crew to have good equipment and good uniforms that fit. We have an expectation that they present themselves well to the customer.
How important is it to get it right when it comes to PPE garments?
You can't get it wrong. If you get to a well site and you don't have an FR uniform on, you can't even go on the site – it's that critical. In our business, oil and gas exploration, you really have to pay attention. For us, having a spot for the team to put their H2S monitor is important. It is sniffing the air around the employee all the time. So if the air has methane, it sounds an alarm. We struggle because a lot of them want to clip it on their belt, but by the time the alarm goes off it would mean the gas had probably already overwhelmed them. The FR iQ shirt has a pocket on the shoulder on both sides, which we thought that was a huge selling point.
How important is it to have a dependable vendor partner?
For us, it's a deal breaker. I've had competitors say they can beat Canadian Linen's price. I'm not one of those companies that is looking for the lowest cost, I'm looking for value. When I hire new employees, it's a simple process to get them their uniform. I know that if I email my rep on Thursday or Friday, that new uniform will be here next Wednesday on our uniform delivery day. And that's perfect for me because sometimes I don't have time to order uniforms until I get home after dinner so I email via the Customer Portal.
The branch has been really good about working with me during the transition. We appreciate that they came to our locations to measure everyone for their uniforms. That level of customer service is pretty exceptional to us. There are many uniform companies that offer many options but we get such tremendous service, not only from the service center team but also from our route Customer Service Representative (CSR). I always tell people I'm willing to pay a little extra for good customer service. That's what sets Canadian Linen apart from the competition.
What would you tell other companies who are thinking about making the upgrade to FR iQ garments?
Our employees are a significant investment for us. They are the face of the company, and they are what makes everything work. So if you can provide your employees with a more comfortable, better fitting uniform that also protects them, that's a no brainer!
---
PEOPLE YOU CAN COUNT ON®
Learn how we make your life easier with brand-building solutions to keep your employees and facilities looking their best.