MAKING OUR MARK
As one of the largest textile rental and supply companies in North America, we have a responsibility to the environment and communities we operate in – and we take it seriously. By reusing and recycling apparel, towels and linens, we help our customers avoid contributing to landfills and pollution. Beyond that, we continue to develop efficiencies within our plant operations and delivery routes that have a positive impact on the environment.
We know this mindset must start with leadership and trickle down throughout the organization. "As one of the larger players in the industry, our family owners and senior leadership feel a personal responsibility to test and implement new technologies," says Ben Saukko, Director of Communications. "We have the resources to support this type of effort that our smaller competitors may not have."
We saw the opportunity to set the standard for clean operations in our industry and recently hired a Safety & Sustainability Officer, Brian Keegan, to lead sustainability efforts and programs across the company. Under Keegan's guidance, Canadian Linen was re-certified for three more years as a Textile Rental Services Association (TRSA) Clean Green company. We were awarded this certification based on a continuing commitment to improving efficiencies in water and energy conservation and adoption of best practices for reusing, reclaiming and recycling resources.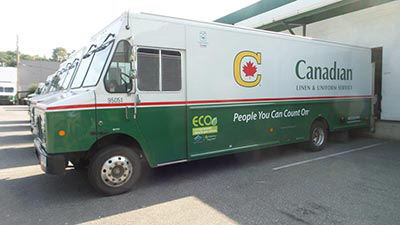 We've also been making strides in our fleet efficiencies. Earlier this year, our Vancouver branch acquired 20 compressed natural gas (CNG) vehicles. Canadian Linen chose the Vancouver market for this initiative based on incentive funding provided by FortisBC, which assisted with the costs to CNG conversion for the vehicles. Natural gas vehicles can save 25 to 50 percent in fuel costs compared to diesel, and natural gas results in 20 to 30 percent less carbon dioxide (CO2) emissions. This conversion will help meet British Columbia's targets for greenhouse gas reductions and help achieve the province's energy objectives defined under the Clean Energy Act.
Strength in Numbers
As the saying goes, the numbers don't lie. In the past year, we celebrated some major environmental wins. While we're already looking ahead at ways to top these achievements, here are some of the 2016 highlights.
In our Plants:
Reduced our carbon footprint by 9,289 metric tons last year as a result of heat reclamation.
Equipment and system improvements have lowered costs and reduced our carbon footprint by 1,607 metric tons or the equivalent of removing 338 cars from service.
Water reuse systems at many of our plants saved approximately 66 million gallons of water.
On the Road:
Rerouting and delivery efficiencies have helped reduce more than 359,000 excess miles per year.
Through 2016, alternative-fuel vehicles have reduced CO2 emissions by 113 tons in our branch locations or the equivalent of removing 24 vehicles from the road.
Rollout of telematics technology, which coaches drivers on safe and efficient driving practices, has reduced vehicle idling by 95%.
This is a sample of the successes that span our 115+ production facilities and service centers. For the full story, check out our new Corporate Responsibility microsite or download our full 2017 Corporate Responsibility Report. You'll find even more examples of our sustainability efforts as well as stories about employee well-being and community service.
---
PEOPLE YOU CAN COUNT ON®
Learn how we make your life easier with brand-building solutions to keep your employees and facilities looking their best.